If you want to buy a gorgeous watch model for your friends and family who are middle-aged men but don't know how to do it properly and appropriately, let Julius help you. We'll share with you the do's and don'ts of buying a wristwatch for a middle-aged man, let's find out!
You should be aware of the following principles while purchasing middle-aged men's watches
When purchasing a watch for a middle-aged man, there are some things to keep in mind and traits to avoid in order to select the best watch model. Check out our sharing below.
Principles for Choosing Middle-Aged Men's Watches
When selecting middle-aged men's watches, we should depend on the following principles:
Should choose a men's watch with a moderately sized face and band that fits the user's wrist, above all, choosing a watch that fits the user's age is still the most appropriate.
Because of the convenience for middle-aged people, prioritize the selection of watch models with mechanical watch characteristics. Because these models have exceptionally suitable designs, mechanical watches' designs are also extremely attractive, delicate, and graceful for middle-aged men.
Prioritize the selection of PVD gold-plated or material watch models since they are particularly durable over time and resistant to peeling and loss of beauty.
Choose watch businesses that employ Japanese and Swiss mechanical technology since these two countries strive for precision and meticulousness in all products, particularly the substance of the movement, which is only used in wristwatches. As a result, the brands that use these two countries' machines will be incredibly durable and of extremely high quality.
Before purchasing a watch, examine the user's preferences to determine how they like the watch with the strap material. A metal strap watch should be prioritized because it is very sturdy and ideal for middle-aged people.
The rule not to do when choosing a middle-aged man's watch
When choosing a watch for a middle-aged man, there are also some principles that should be avoided as follows:
Shouldn't select wristwatch models that are too large for the size of the user's hand or his or her age. Before making a decision, consider what style they prefer and their age to choose a suitable watch model.
It is not recommended to choose an electronic watch with a mechanical construction because the design of these watches is frequently younger and more difficult to use than traditional mechanical watches.
Watches with excessively bright colors should be avoided. It is not appropriate for middle-aged males, the emphasis is always on neutral and bright hues.
Choose timepieces that are not from well-known and respected brands on the market. Because you will not be able to verify the quality of the watch as well as the warranty of the company will not be attractive, not bring you many benefits when using it.
Julius has now revealed the secret to selecting a watch for middle-aged men, including the criteria to avoid and the points to pay attention to. I hope you can use this experience to help you choose the best watch model for your loved ones.
Top ten middle-aged men's watches for elegant men
Julius Korean Men's Watch JAH-140B (Blue)
Because of its highly delicate and elegant design, moderate size, and watch face that looks suited for males and middle-aged individuals, this watch model will undoubtedly give you the perfect suggestion. Above all, this watch type is relatively affordable, making it a popular choice for many individuals.
JAH-135D Julius Korean Men's Watch Leather Band (Black)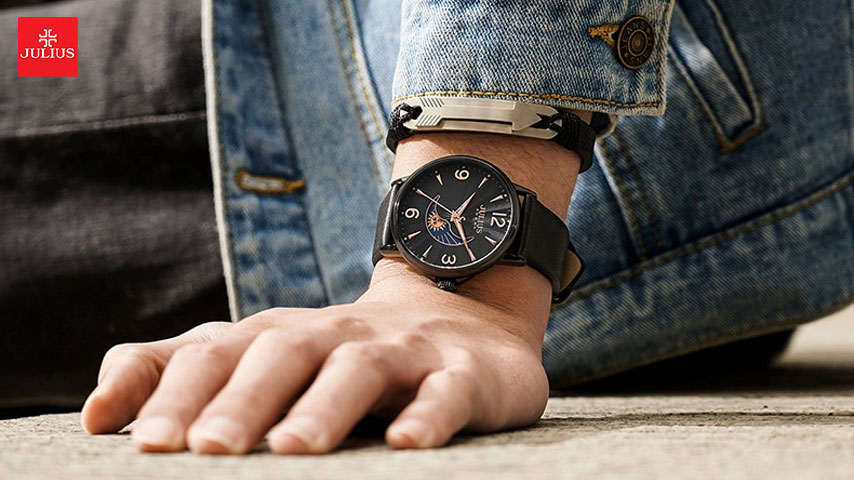 In this model number 2, the JAH-135D watch features a neutral hue ideal for all ages, especially for middle-aged males. The basic black color mixed with the watch leather strap provides beautiful delicate durability, and most of all, this Julius design will provide the user with the greatest experience. Choosing this watch model is extremely durable and unique, especially the durability of the watch movement from Japan will surely make you satisfied and use it for a long time.
VC-080M Valence Sapphire Glass Korean Men's Watch (Gold)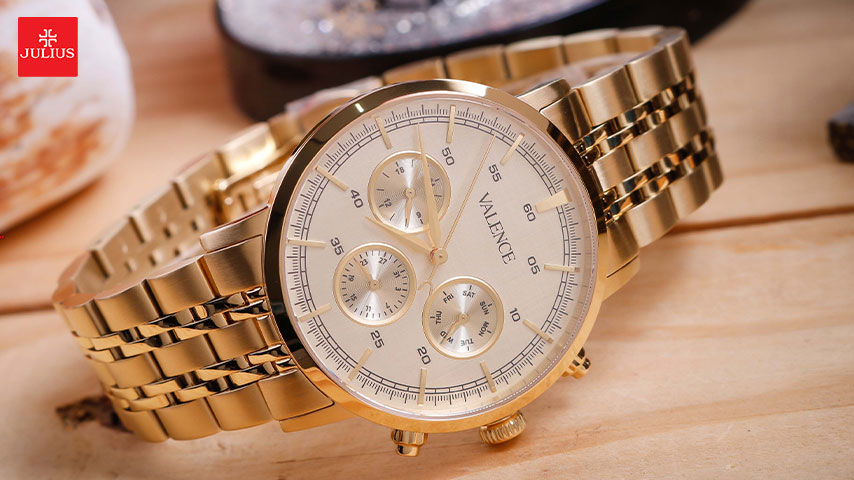 This watch model is at the top of the list of favored watch models for middle-aged men. In addition to its eye-catching appearance, this watch model boasts a practical design that is simple to operate, as well as a sumptuous gold hue. This is unquestionably a national watch model for affluent gentlemen.
JA-1308MD Julius Korean men's watch (Black)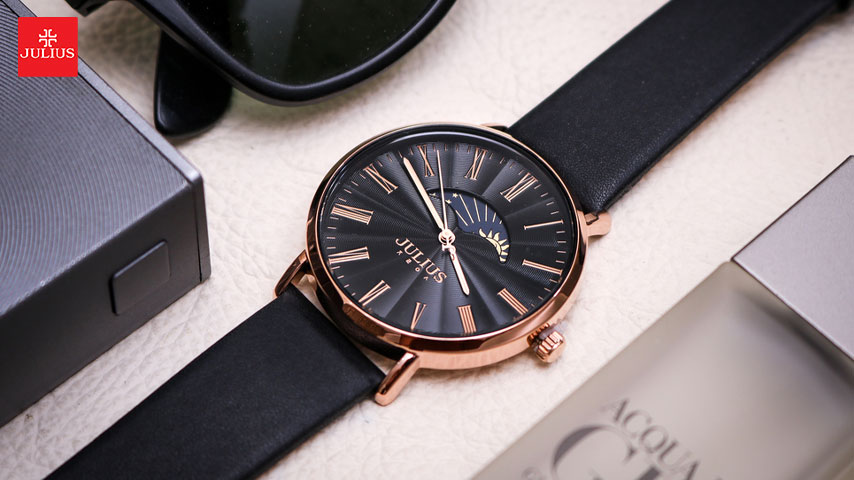 If you're looking for a watch for your middle age, this model is a great option. You can utilize it when going to work, meeting clients, going to parties, or meeting friends. The special thing about the design of JA-1308MD is that it has a unique flair from the land of kimchi, this is definitely an indispensable design in the wardrobe of elegant gentlemen.
JA-1205MA Julius Korean Men's Steel Band Watch (White Silver)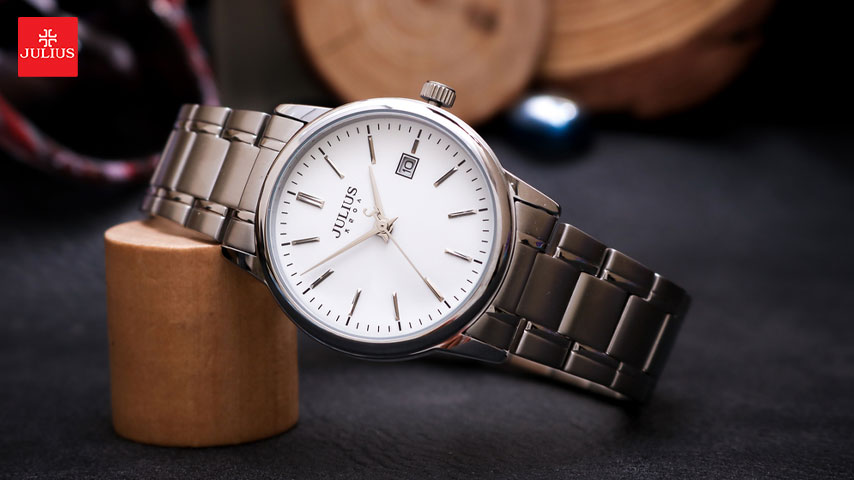 This model has been highly sought after by males since its release and is unquestionably the best option for you. It is ideal for middle-aged males because of its trendy design and metal wire composition.
JAH-130D Korean Julius Men's Steel Band Watch (Black)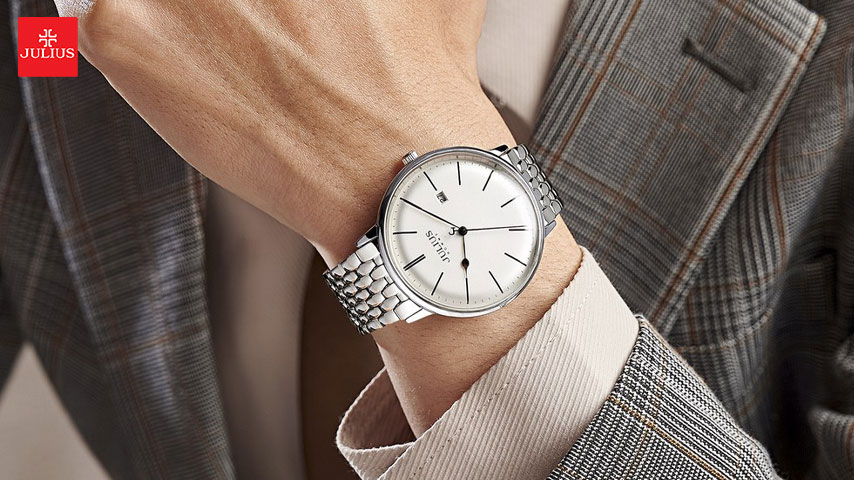 With excellent water and impact resistance, middle-aged men will adore this watch model since it provides a fantastic user experience, and the watch's face size is not overly enormous. Large enough to accommodate all usage scenarios and clothing ranging from sophisticated suits to stylish streetwear. This watch model is in a price range suitable for everyone and has been rated very well by many people who have used it, you should not ignore this perfect watch.
Rectangle JAH-129D Julius Korean Men's Watch (Black)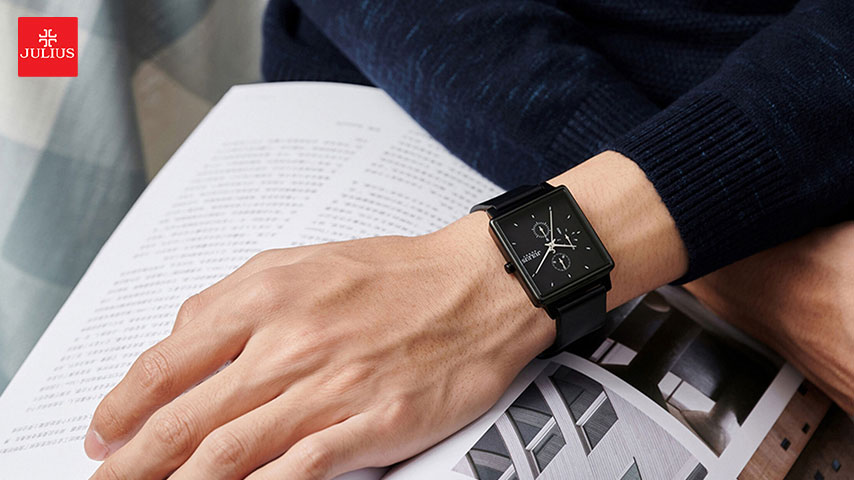 The enigmatic black hue of this model is unquestionably ideal for men who value solitude and strength. The rectangular watch face is likewise an intriguing notion that can help you produce a one-of-a-kind impression that is difficult to replicate. Since its introduction, the JAH-129D has made its mark in the hearts of Julius brand watch enthusiasts with unique designs ranging from design to size to color.
Korean Julius Men's Steel Band Watch JA-1260ME (Gold)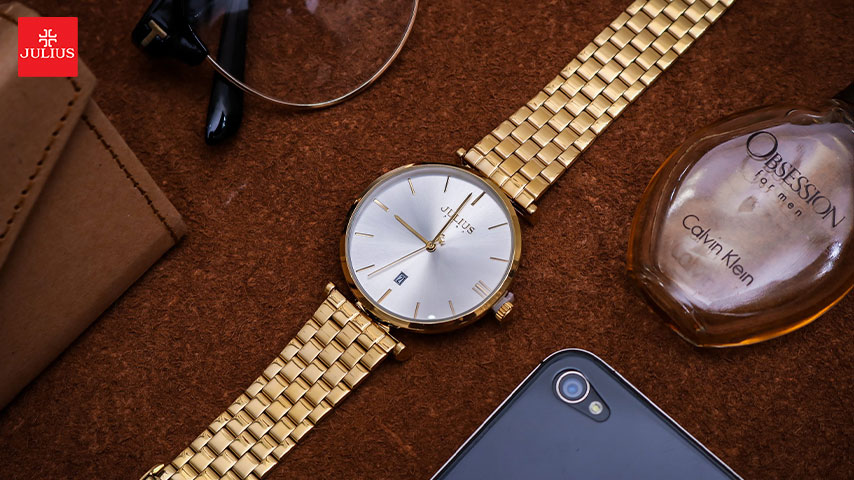 If you adore the beautiful copper-gold color, this is the model for you. With a simple design that isn't overly intricate yet adds an enticing level of refinement, you will surely attract the attention of the opposite person when wearing this watch in your hand. In particular, this model is extremely compact, suitable for gentlemen with small wrists and elegant office outfits.
JAH-125B Men's Watch Julius Homme Korea (Brown)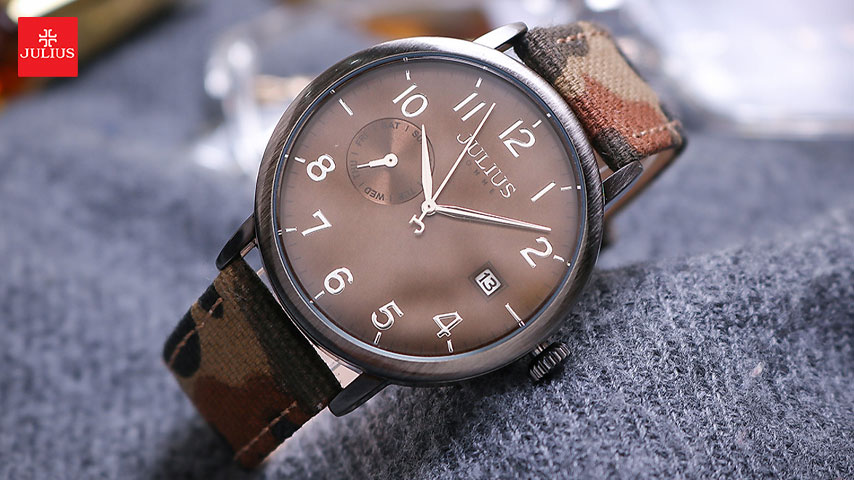 This is the model with the most personality in the line of watches for middle-aged men, it is defined by a design that emits its own refinement. paired with Japanese machines to generate lasting perfection throughout time. Each watch model at Julius is released after a series of testing and experiences by the most demanding clients. Users, particularly middle-aged men, lavish praise on the JAH-125B. As a result, picking this model is ideal in every way.
JA-1069MI Julius Korean Men's Steel Band Watch (Black)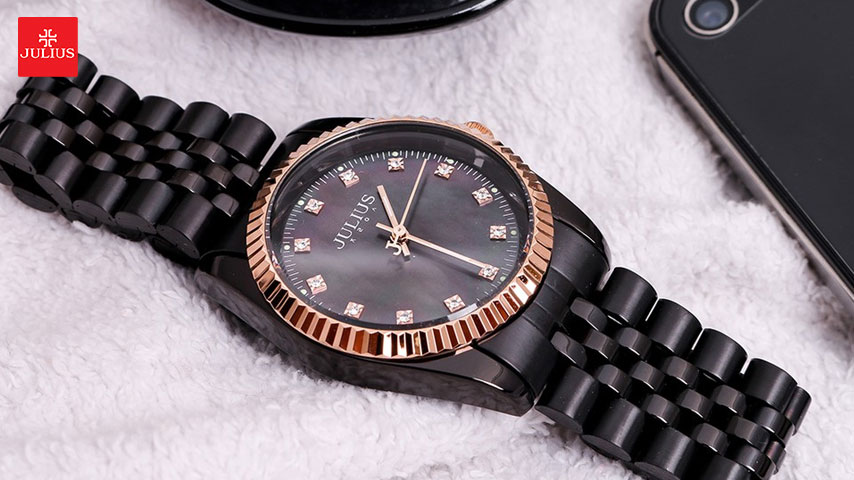 Black is still a hue that attracts males since it represents both the owner's ferocious might and fearlessness. Finally, in the list of suggested beautiful middle-aged men's watches, all attention is devoted to the JA-1069MI because it perfectly demonstrates from design, style to selected materials. You will definitely need this watch model in your collection.
Above we have just suggested to you the most popular middle-aged men's watches today. Hope you will choose the right watch model for yourself.
Buy middle-aged men's watches at Julius
There are numerous varieties of middle-aged men's watches at Julius, particularly those that are tiny and eye-catching. You can purchase Julius watches directly from our locations across the country. Alternatively, purchasing online through e-commerce sites and the official website is a convenient and time-saving option. You will be covered by our exceptionally advantageous product warranty policy regardless of how you choose to purchase. To order or get help quickly, call our hotline at 0132458917.