For modern and attractive girls, watches are not merely an item to keep track of daily time but also become a fashion accessory that affirms women's class. Julius introduces gorgeous women's watches that make her fall in love so that women can choose the most beautiful timepieces for themselves. Follow along with the article below.
The most gorgeous women's wristwatch models in 2023 entice ladies
Julius, with the motto "Always on the runway of fashion exploration", constantly refreshes and launches the most attractive wristwatches for ladies at exceptionally low costs.
JA-1132B JULIUS WOMEN'S WATCH KOREA LEATHER STRAP (BRONZE) 
The bracelet on the JA – 1132B women's watch is a particularly delicate, genuine Leather strap stylized into two loops like high-class jewelry embracing the wearer's wrist.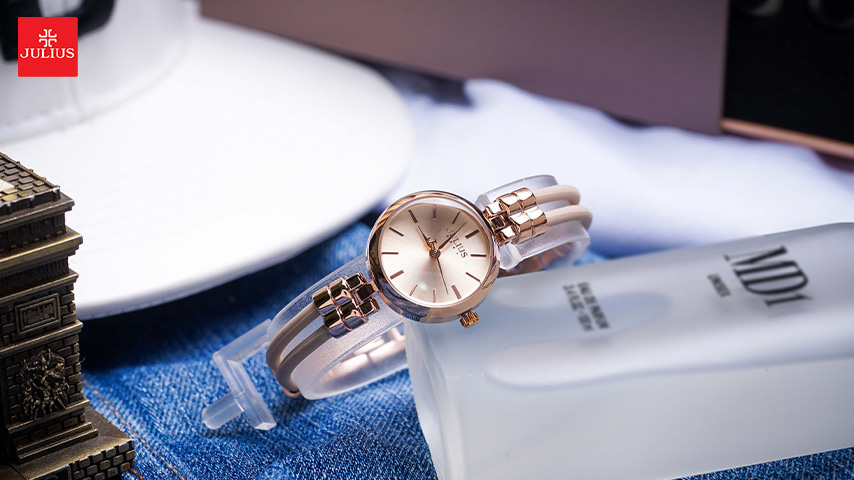 The white strap is elegant, the 2.3cm round face suits all wrist sizes, the multi-button clasp can be readily modified to match any size. The JA – 1132 has a lovely dial and a gleaming silver metal case that helps to highlight pink and white skin.
The JA-1132 women's wristwatch has fashionable yellow hands and numerals that stand out against an exquisite white backdrop. A few small details dotted on the wrist made the opposite person uneasy.
MIYOTA 2035 Japanese Quartz Movement is owned by JA – 1132 (belonging to Citizen Japan), waterproof 3ATM (30m) when you go rain, wash hands, wash face, and need to avoid chemical settings such as washing clothing and bathing.
WOMEN'S WATCH JS-029B GLASS SAPPHIRE JULIUS STAR KOREA (BRONZE)
Julius Star's latest product is a women's watch model JS – 029B. This time machine symbolizes the sun and the moon.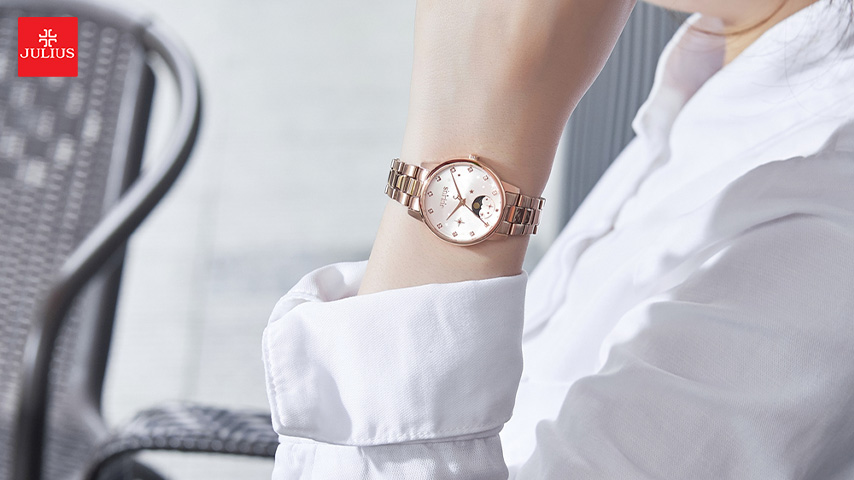 "JS – 029B Sun and moon" is likened to a sad love story that the sun and the moon never meet. Like a sad love story, the arrangement of fate cannot be changed.
In addition to the symbolism of the Sun and Moon, JS-029B also has preferences in design, it is made of anti-scratch, anti-flaking Sapphire glass. The case is made of strong stainless steel, vacuum ion plating process for long-lasting color fastness and no rust.
With a beautiful, trendy golden tone with no dead corners, this time machine was created for noble and sophisticated ladies. She can combine JS-029B with elegant office clothes, active outings or aristocrats when going to a party. In any situation, JS-029B will help you shine.
JA-1172C JULIUS WOMEN'S WATCH KOREA (BLUE)
This year's hot trend is magnetic strap women's watches. JA – 1172C navy blue magnetic strap is robust and beautiful, this will be the most worth buying time machine for her.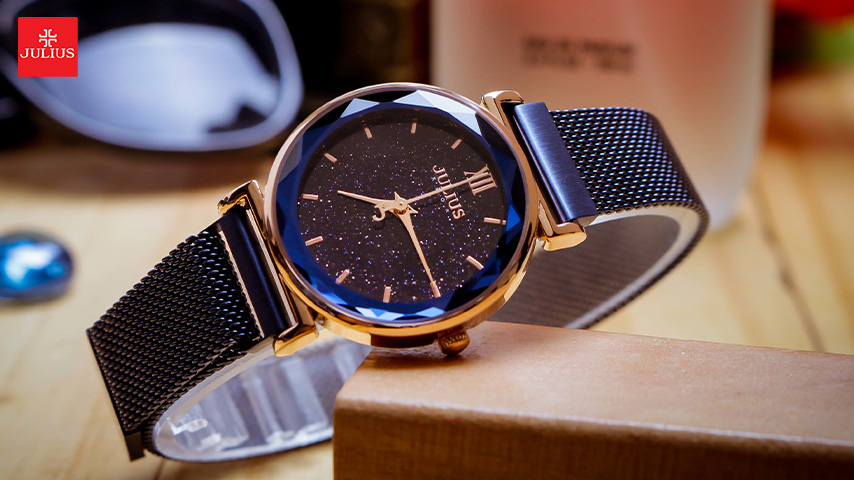 Fancy magnetic strap with several noteworthy characteristics, magnetic strap watches are convenient since girlfriends do not have to fiddle with the watch lock as much, simply hold it in your hand and attach a magnet to the cord to secure it.
The prism cross-section used in the JA-1172C women's watch model is outstanding. Regardless of the point of view, the time machine draws the opposing person's attention. The bronze bezel and numerals stand out against the background, which is as metallic as the starry night sky on the wearer's wrist. JA – 1172C suits every style: luxurious outfits, white shirts, office dresses to work, elegant and youthful outings are all fine.
JA-1148B JULIUS WOMEN'S WATCH KOREA SQUARE DIFFERENT (BRONZE)
The lovely and elegant appearance of the JA – 1148B stylized square-face women's watch model captures the hearts of ladies. The square watch is designed for girls who value independence and confidence while remaining feminine. The silky mesh woven steel band watch fits snugly around the wearer's wrist. Material: stainless steel wire, vacuum ion plating method for great color fastness and no rust over time.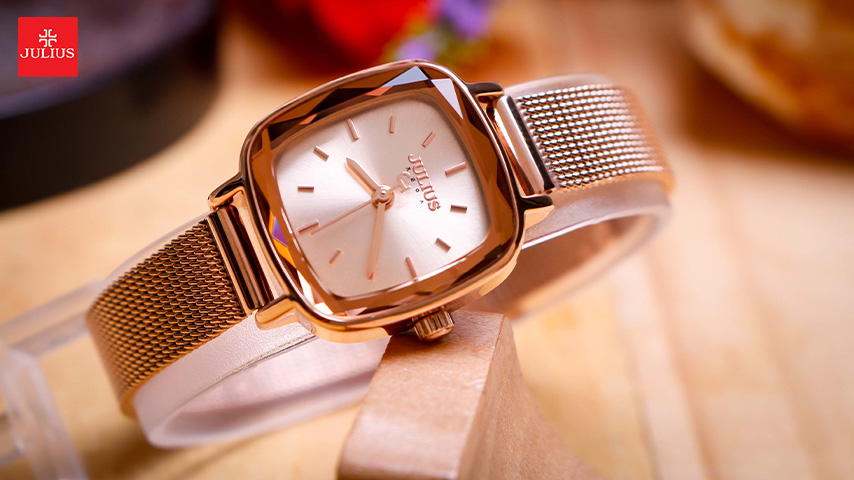 Numbered bars create depth for the wearer to readily track, the watch face's bezel is fashioned with a unique prism that is typical of Korean watches.
JA-1141C WOMEN'S WATCH JULIUS KOREA STEEL STRAP (PURPLE)
For people who appreciate elegant and dynamic beauty, JA – 1141C is the first pick. Classic purple for individuals who enjoy contemplation while remaining fashionable. When paired with complementing colors, the gold and copper bezel makes this JA-1141C stand out.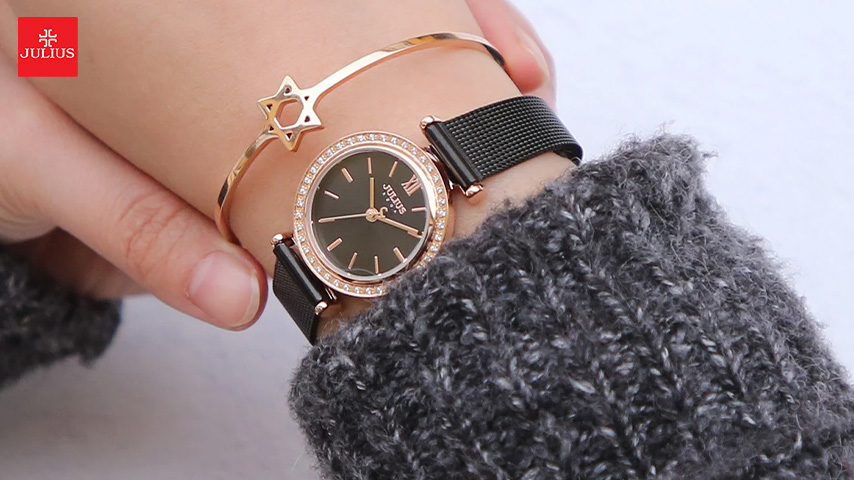 On the time machine, lined numerals add depth. The second-hand markers are the same color as the strap, resulting in a unified look. The Korean-style timepiece is the ultimate focal point on women's wrists. No one will be able to dispute the presence of a time machine.
JA-1131B JULIUS WOMEN'S WATCH KOREA LEATHER STRAP (Brown)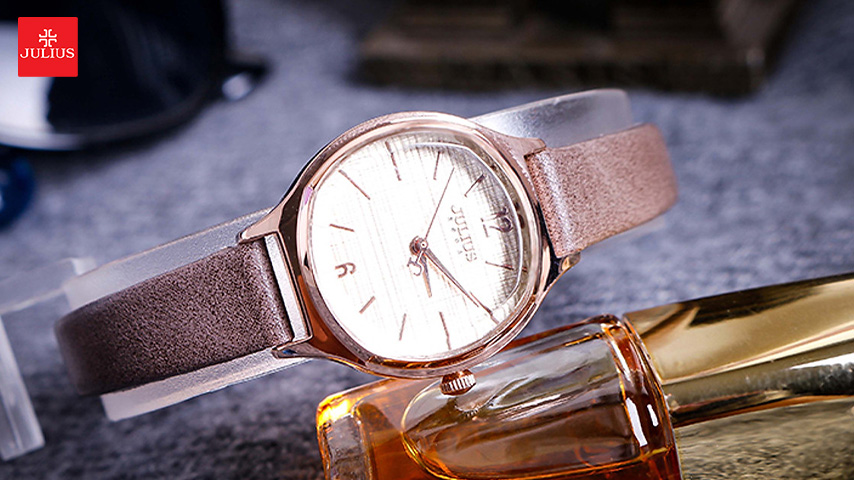 Simple but not monotonous is this beautiful JA-1131B women's watch. A round-face leather strap women's watch with a young and modern design gives females an elegant and fashionable look, elegant numerals, cream dial, an eye-catching brown strap, gentle tones that are simple to match, this is a terrific alternative for those who enjoy energetic and youthful workplace goods.
JA-354D WOMEN'S WATCH JU1213 JULIUS KOREA SQUARE EYES (Brown)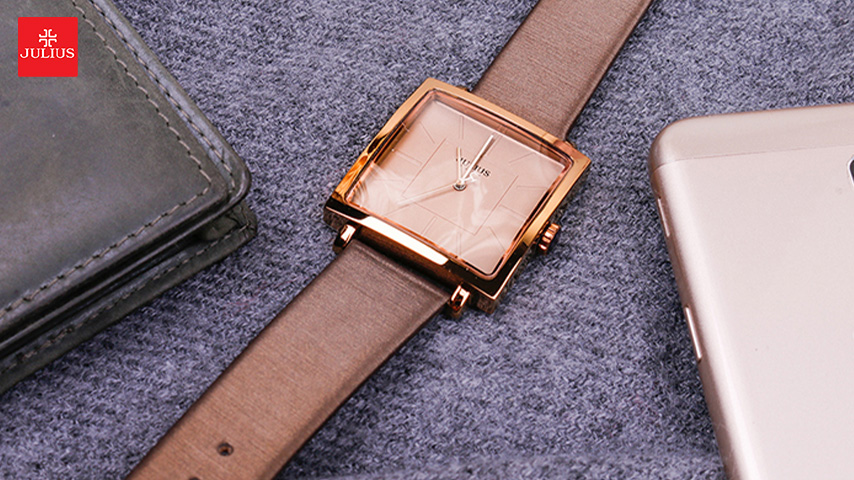 This JA – 354D time machine is described as healthy and lively. A wristwatch for women who are active and lively. The eye-catching square dial on the wrist assists ladies in asserting themselves. The genuine Leather watch band is composed of high-quality leather, ensuring a high level of aesthetics while worn. The watch face is long-lasting, and the bezel is constructed of stainless steel, which is both elegant and long-lasting. Girlfriends will not have to think much about these trendy designs.
JA-1112B JULIUS GIFT COMBO (GRAY) + ESME ES005 Wallet (Gray)
Buying a bargain combo is even better, buy a watch and get a convenient wallet. You will be given an Esme wallet for up to $34,12 when purchasing online for orders of 3 million or more, the possibility to purchase more gifts is greater, don't pass it up.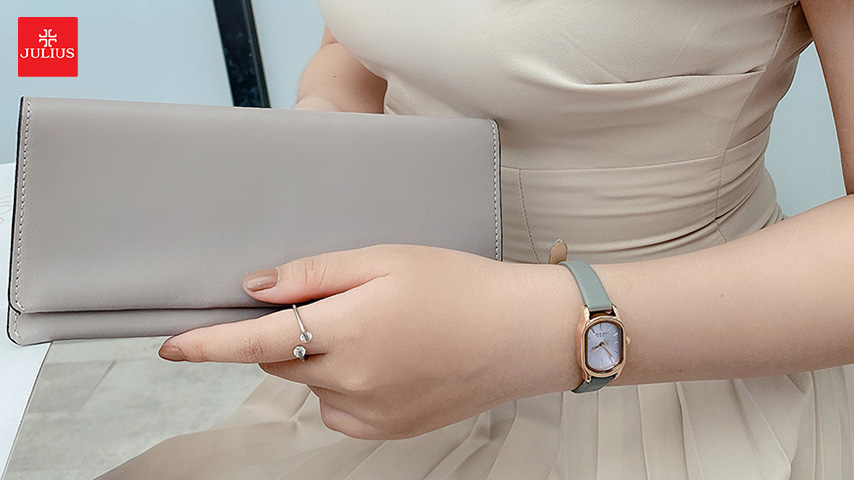 This combo set symbolizes gentle, warm, peaceful and delicate things. Choose this combo for holidays and special gifts.
The watch has a leather strap, mineral glass with a thickness of 1.93.1cm, and is strong and colorfast. The watch band is constructed of rose gold ion plated stainless steel alloy, and IP plating technology makes it more resistant to chemicals. Especially when you buy this watch, you will get up to 12 months warranty, free first change of wire and receive a preferential price that has never been so attractive.
JA-426L JULIUS WOMEN'S WATCH KOREA LEATHER STRAP (Black)
The JA-426L watch is ideal for ladies who wish to assert their power at work, successful business people, or those who frequently meet with consumers. A black leather strap combined with a circular dial results in an aesthetically pleasing product, JA-426L allows you to easily combine with a variety of outfits and in different situations. Whether going to work, partying or hanging out with friends, it is very suitable.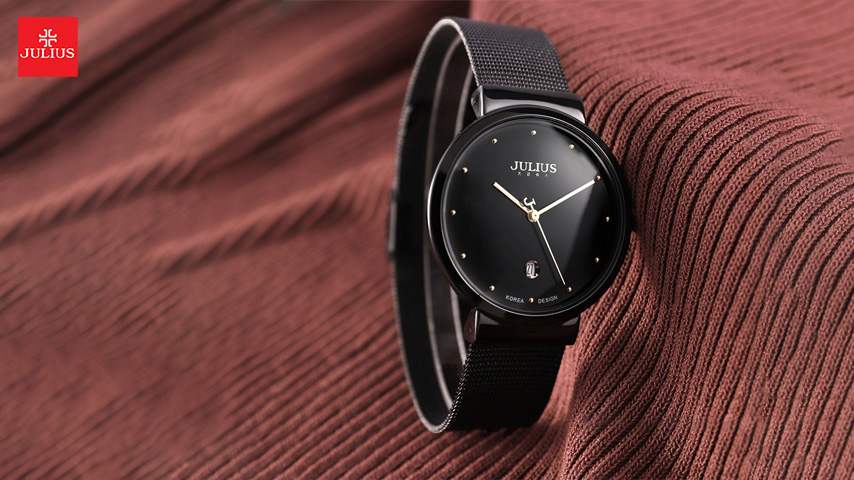 JA-426L is currently 30% off, do not miss the attractive opportunity to own this model for thousands of people.
JA-1347C JULIUS WOMEN'S WATCH KOREA STEEL STRAP (Brown)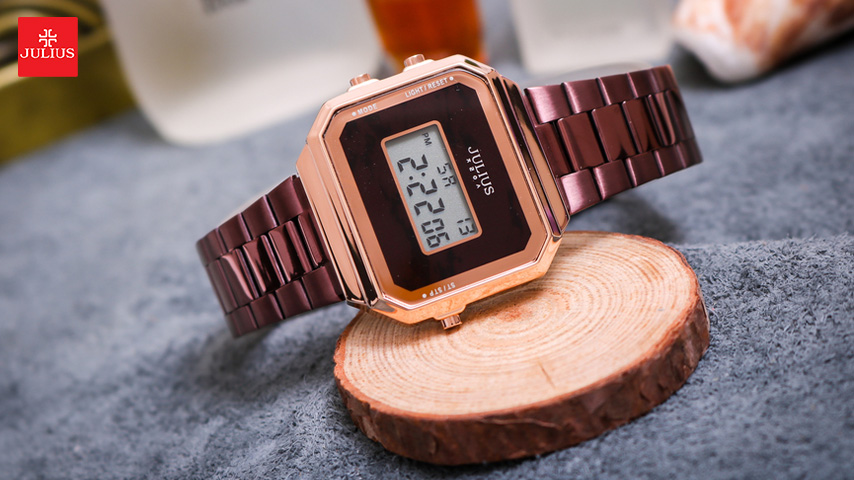 Women's watches with square faces have long given them a particular personality. This watch model will look fantastic when paired with light casual styles, the JA-1347C's exceptional durability is guaranteed for up to 12 months. Vacuum IP-plated steel wire with superior technology will contribute to color durability, high water resistance, and long-term durability.
JA-1145B JULIUS WOMEN'S WATCH KOREA STEEL STRAP (BLUE COPPER)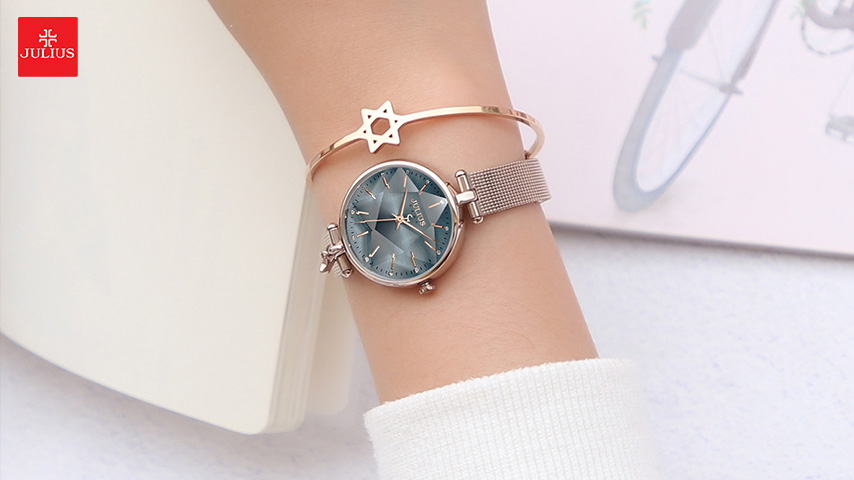 Coming from the Julius brand, which has more than twenty years of development and is still warmly embraced today, Julius leads the market in key nations, Vietnam is no exception with Every watch model launched in the market is welcome. The JA-1145B is a one-of-a-kind timepiece that is unlike any other on the market. The small steel wire combined with the typical Korean prism dial creates its own stylized beauty. The small star accessory in the buckle helps the JA-1145B add a special charm. The small steel wire combined with the typical Korean prism dial creates its own stylized beauty. The small star accessory in the buckle especially helps the JA-1145B add a special charm.
JA-1343A JULIUS WOMEN'S WATCH KOREA LEATHER STRAP (Pink)
Pink has always been a distinctive color that never goes out of style, regardless of your personality, you should have at least one pink watch in your wardrobe. Round watch face paired with pink leather strap, typical Korean design lines utilized by many Korean celebrities, you will undoubtedly be captivated by this most gorgeous women's watch.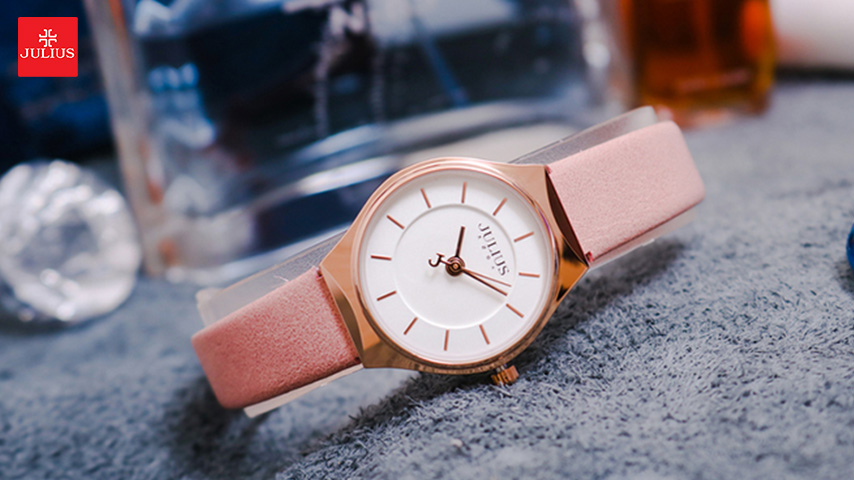 3ATM JA-1343A waterproof You can go outside and easily wash your hands and face. The brand will also provide a complimentary 12-month warranty on this model for the first time change. With a special sales option like this, you won't miss out on the chance to possess this special watch, right?
JA-1240C JULIUS WOMEN'S WATCH KOREA LEATHER STRAP (RED)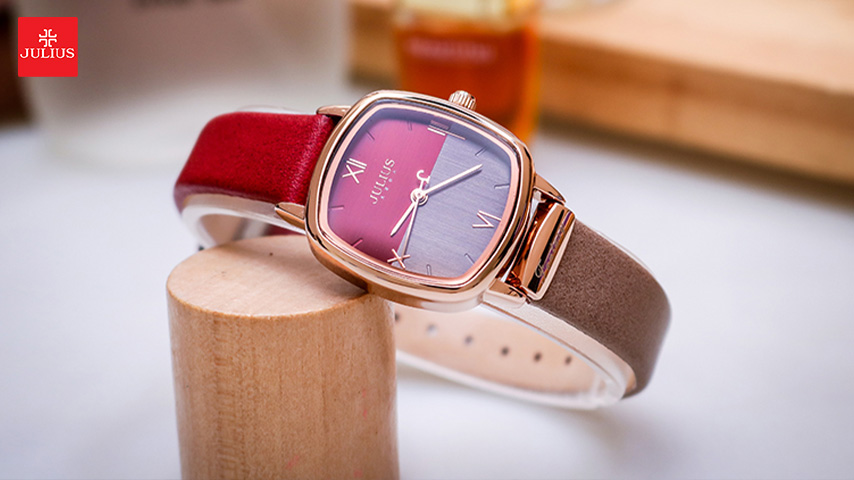 High-definition, impact-resistant mineral glass with a red leather strap and a button fastening. Julius company's JA-1240C women's watch deserves to be the beauty queen among the current watch styles that this Korean manufacturer has released. The watch face is divided into two distinct colors to create a distinct highlight, with this one-of-a-kind design, no matter how you use it in any setting, it will leave your mark.
Important note to know when buying gorgeous women's wristwatch you need to know
Modern watch models must not only have a stunning design that is appropriate for a variety of scenarios, but they must also show the users. Furthermore, users are most concerned with brand integrity, quality standards, and age appropriateness.  Important notes for you when choosing a watch you should know:
About the brand
There are many reputable watch brands on the market today, however, unreputable brands also abound. As a result, while selecting the most attractive women's watch model, you should choose with a recognized brand that is well-known in the market. For example, watches from the Julius brand have been on the market for more than twenty years, are present in more than 40 countries, and it is a prestigious brand you should choose when it comes to the name everyone knows.
Concerning quality standards
Quality is the most important component in product longevity, respectable brands continually prioritize product quality and constantly upgrade product quality over time.
If you are not a watch expert, you can ask a consultant to provide you with product information as well as the most attractive women's watches on the market for you to refer to.
Age-appropriate fashion
With each age, you should select the proper watch model for yourself. When releasing a new watch model, manufacturers always include an age range for that model. With each watch brand, there will be a unique design style suitable for your age and the style you are pursuing. Julius' style of women's watches is often delicate, simple but has its own character, is used by many situations and becomes a unique jewelry for women.
How is the warranty at Julius?
At Julius, when you buy goods whether online or directly at the store system, you will receive enthusiastic advice from a consultant, so that you can choose the most beautiful women's watch model for you. Or as a gift for friends and family.
Any Julius product that comes to market goes through rigorous testing and testing. So choose to buy online or offline, you will receive the manufacturer's warranty policy.
As a Julius customer you will receive our special warranty policy.
Machine warranty up to 5 years

12 months warranty if there is a defect from the manufacturer

Free day change for the first time

Free lifetime watch (quartz) battery replacement

Lowest cost after-sales in 3 years after warranty

When you have a warranty card, you can buy accessories at a discounted price that cannot be more attractive.
Especially when buying at Julius you will receive a very special offer. Specifically, you will be given an Esme bag or wallet worth up to $34,12 if you buy an order from $127,93 for non-sale goods and $213,22 for sale goods. We also offer free shipping for orders over $21,32.
With this after-sales service, warranty and extremely attractive gifts, do not miss the opportunity to own the most beautiful women's watch at Julius today. Come to Julius to experience and own the best watch model for you.
To order online or receive advice from staff, please contact hotline  0132458917 or send a message via email https://thejulius.my/ for the fastest and most timely support.
Julius watches have 1 year warranty, 1 free band change, 5 years free battery replacement. Quality meets international standards, and is the most valuable time machine for you to buy. If you have any questions or want more advice, please contact the hotline: 0132458917 or click on the chat board for the most dedicated advice.